For years the Federal Government required all documents involving odometer disclosures to be signed in wet ink.  However, since COVID-19, new rule changes have opened the door to using electronic signatures.  Florida is now accepting electronically signed versions of title applications, applications for duplicate title, odometer disclosure statements and the two secure forms – dealer reassignments (known as the Rainbow Form) and secure powers of attorney.  If you are going to use electronic signatures, you should know they need to follow Rule 49 (Highway Traffic Safety Administration Rule 49 CFR 580 for Assurance Level 2.)  This means making sure your buyer is who they say they are.
If you want to accept electronic signatures you will need to provide a signature certification.  These are used to authenticate the signature and typically show the IP address, timestamp and/or history of the signer.  This certification will need to be submitted with your paperwork to the tag office along with your "attestation" statement on your dealership letterhead.  To view a copy of the Information Notice, please click here.
The attestation statement should look similar to this,
"ABC Dealership attests that the electronic signature(s) on the odometer disclosure documents meet the requirements set for by National Highway Traffic Safety Administration Rule 49 CFR for Assurance Level 2."
Using electronic signatures is convenient and can certainly be beneficial but it will be up to you to make sure you're adhering to the rules.  At the end of the day, no one wants to deal with cases of identity theft or claims of fraud.
Exemptions
Starting January 1, 2021, and continuing every year, FLHSMV will capture odometer disclosures for vehicle years 2011 and later. This "rolling" exemption is basically adding an additional model year worth of vehicles each January until the 20-year exemption is fully implemented.
With this final rule, beginning on January 1, 2021, model year 2011 vehicles will NOT become exempt from the requirements until January 1, 2031. States are required to capture the odometer reading for model year 2011 until 2031. Thus, for any title transfer that occurs on or after January 1, 2021 on a model year 2011 or newer vehicle, an odometer disclosure must be completed.
There will be some states that are not in compliance and you may see titles with 'EXEMPT' odometers for 2011 vehicles.  FLHSMV will accept the Out-of-State title, carry the 'EXEMPT' odometer indicator forward, and issue a Florida title for the 2011 vehicle. However, if a 2011 vehicle has a Florida title and the application for Certificate of Title has been marked as 'EXEMPT' by the purchaser, the transaction documents should be rejected and the purchaser must disclose the vehicle mileage as actual, not actual, or exceeds the mechanical limits of the vehicle.
The following verbiage will be added to applicable procedures and forms:
MOTOR VEHICLES WITH A MODEL YEAR OF 2011 OR NEWER ARE EXEMPT AFTER TWENTY (20) YEARS AND MOTOR VEHICLES WITH A MODEL YEAR OF 2010 OR OLDER ARE EXEMPT AFTER TEN (10) YEARS.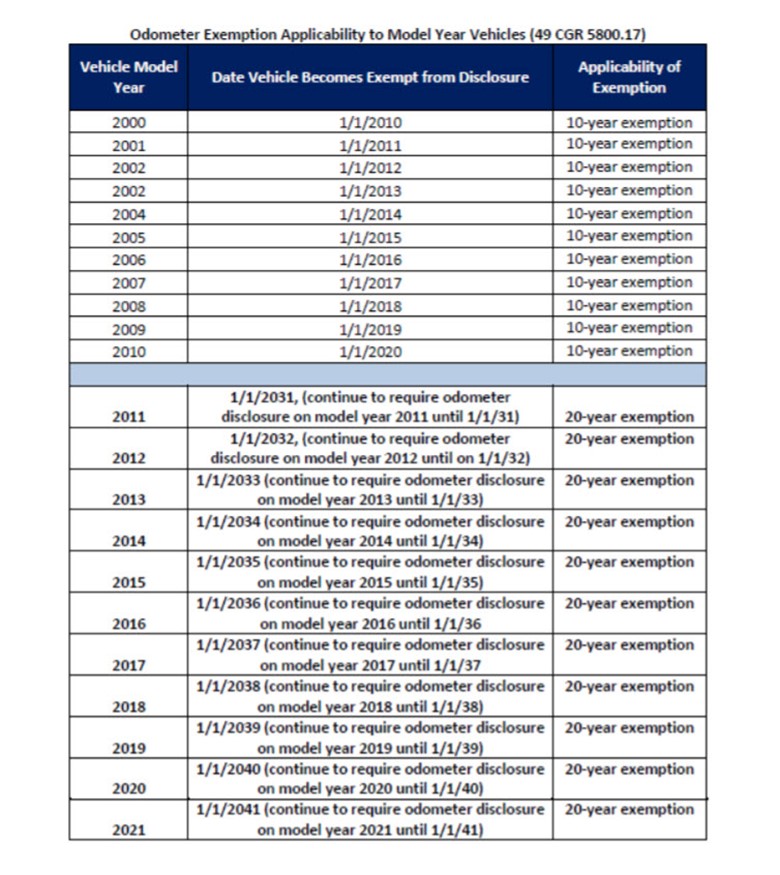 This Information Notice may be found at:  https://www.flhsmv.gov/pdf/bulletins/2020/info20-040.pdf