NOTICE:  The information below was obtained directly from the Division of Motorist Services, Department of Environmental Protection and the Hillsborough County Environmental Protection Commission's websites. Links are provided so you may access the content from all three agencies.
FAST FACTS
RV dealers and recreational vehicles are exempt from the requirements to certify that air pollution control devices are installed in the vehicle.
However, if you hold an independent dealer license and you sell motor vehicles other than recreational vehicles, please read below.
---
If you hold an independent dealer license, you are required to certify that you conducted a visual inspection of the the motor vehicle you are offering for sale and that all the required air pollution control devices are in place and you haven't tampered with them.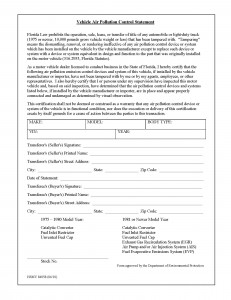 Click form to enlarge
To download a copy of this form, click here.
The rule from the Florida Department of Environmental Protection can be accessed by clicking here.
NOTICE TO HILLSBOROUGH COUNTY DEALERS If your dealership is located in Hillsborough (regardless of where your customer resides), you must certify additional components. The Hillsborough County rule defines the emissions control system as:
b. "Emission control system" means the devices and mechanisms installed as original equipment at the time of manufacture or those equivalent devices and mechanisms later installed during repair or replacement of original equipment, or during vehicle modification or retrofit as required by law, for the purpose of reducing or aiding in the control of emissions including, but not limited to, the following components: catalytic converter, fuel inlet restrictor, unvented fuel cap, positive crankcase ventilation system, exhaust gas recirculation system, thermostatic air cleaner, air pump and/or air injection system, oxygen sensor, fuel evaporative emission control, and all vacuum lines, electrical lines, and sensors or switches associated with these devices.
Reference:  RULES OF THE ENVIRONMENTAL PROTECTION COMMISSION OF HILLSBOROUGH COUNTY CHAPTER 1-8 MOBILE SOURCE. Click here to view entire rule.