FAST FACTS  
The following changes have taken effect regarding federal and state odometer disclosure requirements:
Odometer Disclosures may be signed electronically.
Odometer Rule Changes Disclosure Exemption from 10 to 20 years.
---
NOTICE:  The information below was obtained directly from the Division of Motorist Services website. Links are provided so you may access the content on the DMS website.
The following information applies to the sale of motorized units that fall under federal and state odometer disclosure requirements.
Electronic Signatures
First, some brief background information. The federal odometer law, which passed during the 1980s, required a wet signature (use of a pen) on all documents involving odometer disclosures. It wasn't until fairly recently that the federal law was changed to allow for electronic signatures on documents disclosing odometer readings. The states could not implement this new law until the National Highway Traffic Safety Administration (NHTSA) promulgated the rule to allow states to move forward with these changes. We have now reached that point.
On May 6, 2020, the Florida Division of Motorist Services (DMV) issued an Information Notice stating that effective May 1, 2020, it will begin accepting electronically signed versions of title applications, applications for duplicate title, odometer disclosure statements and the two secure forms – dealer reassignments (known as the Rainbow Form) and secure powers of attorney. The electronic signatures must be obtained in accordance with requirements set forth by the National Highway Traffic Safety Administration Rule 49 CFR 580 for Assurance Level 2.
The Assurance Level 2 requirements are quite rigorous. You must take steps to ensure the persons who are signing electronically are in fact who you believe them to be. These requirements apply to persons signing electronically in your presence as well as those who are signing electronically from a remote location. Think about the Red Flags Rule and the steps you must take to ensure that a person is not an identity thief. But when it comes to electronic signatures on odometer disclosures, you must apply the same level of scrutiny to cash customers.
According to the DMV, "The electronic signature process must use an identity proofing/authentication protocol or methodology (shared secret, secure token, other credentials, etc.) to determine the identity of the signer, and meet the National Institute of Standards and Technology assurance level 2." This means, the vendor must provide a signature certification "…document to show the history, activity and other identifying information such as location, internet protocol address or timestamps, sufficient to create an audit trail if the signature is later repudiated." This document must be submitted with your paperwork to the tag office (either electronically or in paper form).
In addition, you must submit an "attestation" statement on your dealership letterhead which states:
ABC Dealership attests that the electronic signature(s) on the odometer disclosure documents meet the requirements set forth by National Highway Traffic Safety Administration Rule 49 CFR for Assurance Level 2."
This too must be submitted with your paperwork to the tag office. Your tag office should be able to provide you with specific information to assist you with this new process. To view a copy of the Information Notice, please click here.
Odometer Rule Changes Disclosure Exemption from 10 to 20 Years
The following is a reproduction of Division of Motor Services Information Notice INFO020-040
Overview:
The National Highway Traffic Safety Administration (NHTSA) changed the odometer disclosure exemption requirements for motor vehicles. The new 20-year odometer capture exemption requirements apply only to vehicles that are 2011 model year or newer. Vehicles manufactured with a 2010 model year or older remain exempt under the 10-year exemption.
Details:
Beginning January 1, 2021, and every year thereafter, FLHSMV will be obligated to continue to capture odometer disclosures for model year 2011 and later vehicles. This type of "rolling" exemption is best described as adding an additional model year worth of vehicles each January until the 20-year exemption is fully implemented.
With this final rule, beginning on January 1, 2021, model year 2011 vehicles will not become exempt from the requirements until January 1, 2031. States are required to capture the odometer reading for model year 2011 until 2031. Thus, for any title transfer that occurs on or after January 1, 2021 on a model year 2011 or newer vehicle, an odometer disclosure must be completed.
With this rule change, there will be some states that are not in compliance and you may see titles with 'EXEMPT' odometers for 2011 vehicles. In this instance, FLHSMV will accept the Out-of-State title, carry the 'EXEMPT' odometer indicator forward, and issue a Florida title for the 2011 vehicle.
However, if a 2011 vehicle has a Florida title and the application for Certificate of Title has been marked as 'EXEMPT' by the purchaser, the transaction documents should be rejected and the purchaser must disclose the vehicle mileage as actual, not actual, or exceeds the mechanical limits of the vehicle.
The following verbiage will be added to applicable procedures and forms:
MOTOR VEHICLES WITH A MODEL YEAR OF 2011 OR NEWER ARE EXEMPT AFTER TWENTY (20) YEARS AND MOTOR VEHICLES WITH A MODEL YEAR OF 2010 OR OLDER ARE EXEMPT AFTER TEN (10) YEARS.
The table below is a visual example of application of the new requirements.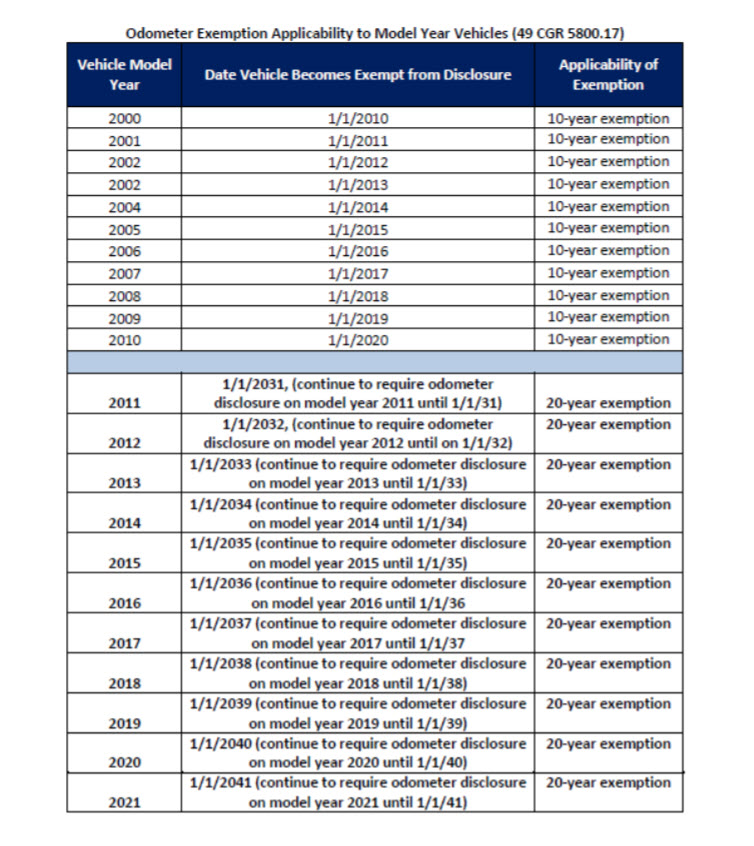 This Information Notice may be found at:  https://www.flhsmv.gov/pdf/bulletins/2020/info20-040.pdf